In September 2016, the CHARLIE FOUNDATION organized the 5th Global Symposium on KETOGENIC THERAPIES: Treating Epilepsy, Brain Cancer, Autism & Cognitive Disorders in Banff, Canada (report). Ketogenic therapy is based on the observation that fasting can reduce epileptic seizures and cure epilepsy in some patients. The diet mimics the metabolism of fasting under medical supervision so that this physiological state can be maintained over the long term. www.charliefoundation.org
The Chaja Foundation supports the expansion of the Ketogenic Diet as a therapeutic methodology at the Epilepsy Center of the University Hospital Frankfurt so that it can be offered there for adults as well and can be complemented by professional, specialized nutrition counseling.
In Banff in 2016, we met Jim Abrahams, the founder of the CHARLIE FOUNDATION. We promised him to make the German-dubbed version of the movie "First Do No Harm…" featuring Meryl Streep available again. After much research and negotiation, the special edition DVD was presented to participating physicians and dietitians in January 2020 at the Network Symposium on Ketogenic Nutrition Therapy in Frankfurt, Germany.
"First Do No Harm" with Meryl Streep
A mother's desperate struggle to save her child – German-language DVD SPECIAL EDITION
This special edition DVD includes an interview with Dr. Jörg Klepper on ketogenic therapy "1997 and today". The DVD is licensed for (non-commercial) screening at educational events.
Genre: Feature film
Production Year: 1997
Studio, distribution, sales:
eduflat (Medienhandel Kay Gollhardt e.K.)
Item number: ZRN001
Running time: 90 minutes
Age rating: 12 years and older, pursuant according to sect. 14 of Germany's Youth Protection Act (Jugendschutzgesetz, JuSchG)
Languages: German, English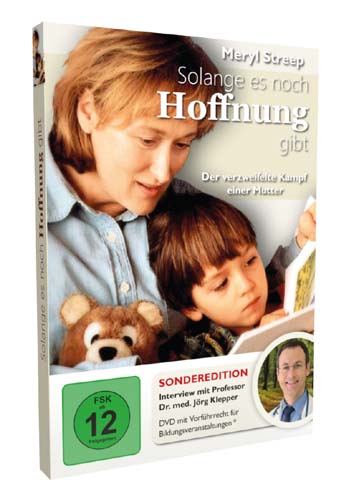 THE FILM
The Reimullers are a happy American family. This changes when one day, their youngest child is found to have epilepsy. Mother Lori (Meryl Streep) takes passionate care of her son. But hospital treatments seem to make no difference – in fact, conventional medicine appears to have reached the limit of what it can do. Desperate, Lori decides to try a new approach and an alternative treatment – against the resistance of her son's attending doctors…
BONUS MATERIAL
– Interview with Dr. Jörg Klepper
– Introduction to the ketogenic diet by Meryl Streep
– Meryl Streep thanks the CHARLIE FOUNDATION for their recognition
For teachers and lecturers: (for use in schools and universities)
DOWNLOAD LINK: 8 EUR